AMD Zen 4 Ryzen 7000 Specs, Release Date Window, Benchmarks, and More
AMD Zen 4 Ryzen 7000 series "Raphael" CPUs will be available soon, and recent advancements make this an important release for the firm. AMD's previous-generation Ryzen 5000 processors did the unthinkable: they dethroned Intel's best in every CPU benchmark, including topping our list of best CPUs for gaming, as the business outperformed Intel's Rocket Lake in every way.
But then there was Alder Lake. Intel's new hybrid x86 architecture, which combines large and powerful cores with small efficiency cores, propelled the company to the top of all raw performance metrics while also helping to address the company's glaring shortcomings in the power consumption department. But, perhaps most critically, Alder Lake kicked off a full-fledged price battle with Intel's new bare-knuckle pricing strategy, especially in the mid-range that serves as gamer territory.
But AMD isn't sitting still, and its AMD Zen 4 Ryzen 7000 CPUs are ready to take the race for performance leadership to the next level. AMD recently demonstrated a 16-core Ryzen 7000 processor that attained an incredible 5.5 GHz during a gaming demo and completed a Blender render in 31% less time than Intel's flagship Core i9-12900K.
AMD claims that the final chips will have boost frequencies of up to >5.5 GHz and will be equipped with new technology such as a new integrated Radeon RDNA 2 graphics engine and AI instructions based on AVX-512. We've also discovered a lot more about the 5nm Zen 4 Ryzen 7000 'Raphael' processors and the new series of AM5 motherboards. During its recent analyst day, AMD also revealed that not only will regular desktop PC chips be available this year, but the company will also release 3D V-Cache versions by the end of the year.
Intel's Raptor Lake CPUs are ready to go, ensuring that AMD Zen 4 Ryzen 7000 will face fierce competition when it launches later this year. This article contains all of the information we have, both from official and unofficial sources. We'll update the piece when we discover more, but for now, here's what we know.
AT A GLANCE: AMD ZEN 4 RYZEN 7000 SERIES
Codename Raphael
Up to 16 cores and 32 threads on TSMC 5nm process (N5 used for compute die)
(up to) >5.5 GHz boost
6nm I/O die, DDR5 memory controllers, PCIe 5.0 interface
DDR5 only (no DDR4 support)
RDNA 2 integrated GPU (present on IOD)
Zen 4 architecture has an 8 to 10% IPC gain
>15% gain in single-threaded work, >35% overall performance gain (multi-threaded workloads), >25% performance-per-watt gains
AM5 Socket LGA 1718, backward compatible with AM4 coolers
600-Series Chipset: X670E Extreme, X670, and B650 Motherboards
up to 170W TDP, 230W peak power
up to 125% more memory bandwidth per core
Support for AVX-512
3D V-Cache Zen 4 models will come to market this year
WINDOW OF AMD ZEN 4 RYZEN 7000 RELEASE DATE
AMD has scheduled the official introduction date for the first AMD Zen 4 Ryzen products, the AMD Zen 4 Ryzen 7000 series for desktop PCs, for Fall 2022. (codenamed Raphael). Fall in the United States begins on September 22 and finishes on December 22, implying that AMD Zen 4 Ryzen 7000 will be available by the end of the year. AMD has already demonstrated its 16-core 32-thread AMD Zen 4 Ryzen processor, which is undoubtedly the flagship chip, and if AMD follows tradition, we expect the business to unveil its most expensive items first. The company has stated that the Ryzen 7000 would have a maximum core count of 16 cores and 32 threads at launch.
A image of a purported briefing with the date printed on a banner has also fueled reports of a September 15 launch. Furthermore, it appears that DigiTimes has its own independent sources reporting that AMD has set a mid-September delivery date, so this appears to be the case. While this is the release date, it's worth noting that it comes a full week before Fall, and we're used to merchants releasing towards the tail end of the specified timeframe rather than before it. In other words, if AMD launches early, it will be defying a well-established norm.
The Ryzen 7000 chips are only the first stage in AMD Zen 4 Ryzen journey, as the firm fulfils its CPU roadmap and gets them to the desktop and laptop markets. AMD's data centre CPU roadmap will also include the AMD Zen 4 Ryzen architecture.
Also Read: Nvidia GeForce RTX 3070 Review
SPECIFICATIONS AND FEATURES OF THE AMD ZEN 4 RYZEN 7000
Normally, we'd provide a comprehensive table of specifications for any given chip family here. However, AMD has yet to disclose detailed specifications for the various AMD Zen 4 Ryzen 7000 SKUs, so we still have a lot to learn about the real end products. However, we do know a lot about the overall parameters, such as the fact that the chips have a maximum of 16 cores and 32 threads. AMD has also demonstrated a 16-core CPU that can hit 5.5 GHz on all cores while gaming — and that's without overclocking and with a typical 280mm AIO cooling.
Indeed, the business claims that the chips are '>5.5 GHz,' implying that boost clock rates could be significantly higher. Aside from AMD's confirmation that the AMD Zen 4 Ryzen 7000 retains Precision Boost 2 to expose the highest boost frequencies feasible at all times, we don't have much more information about Zen 4 clock frequencies.
During AMD's Computex event, we took a close-up snip of a bare AMD Zen 4 Ryzen 7000 chip and released a block diagram of the normal AMD Zen 4 Ryzen 7000 chip. The chip is made up of two gold-colored 5nm core chiplets, each with eight cores. AMD claims that these are built on an improved version of TSMC's high-performance 5nm process technology (possibly N5), and that they are substantially closer together than earlier Ryzen core chiplets. Furthermore, we detect what appears to be a shim between the two core chiplets, most likely to keep an equal surface atop the two dies. It's also feasible that the two chips' close orientation is due to some kind of clever packaging connection.
We also notice a distinct contour around the top of each CCD, but we're not sure if this is due to a new metallization approach. Backside Metallization (BSM), which comprises an Au coating to avoid oxidation while enhancing TIM adhesion and lowering thermal impedance, is responsible for the gold colour. We also see a lot of unfilled capacitor slots, which is intriguing and could indicate bulkier designs in the future.
The new I/O die employs a 6nm technology and incorporates the PCIe 5.0 and DDR5 memory controllers, as well as AMD's much-needed RDNA 2 graphics engine. The new 6nm I/O die also has a low-power design based on AMD's Ryzen 6000 chips, so it has improved low-power management features and a wider palette of low-power states. AMD claims that this chip now uses roughly 20W, which is less than it did with Ryzen 5000, and that it will provide the majority of the power savings seen in AMD Zen 4 Ryzen 7000.
Surprisingly, it looks that the new I/O die is nearly the same size as the previous-generation 12nm I/O die. However, considering that the 6nm die is significantly denser than GlobalFoundries' 12nm die, which has far more transistors, it's plausible to conclude that the integrated GPU has devoured a considerable chunk of the transistor budget (possibly due in part to onboard iGPU cache). The big 6nm I/O die will undoubtedly raise the cost of the chips, as it is significantly more expensive than the mature 12nm I/O die utilised in AMD Zen 4 Ryzen 5000 CPUs.
AMD has officially confirmed that this year's AMD Zen 4 Ryzen 7000 series processors will include variants equipped with the company's 3D V-Cache, offering amazing L3 cache capacity via its groundbreaking 3D-stacked SRAM architecture that fuses an L3 chiplet on top of the compute units. This technology has provided the Ryzen 7 5800X3D with a total of 96MB of L3 cache, resulting in industry-leading gaming performance. We may have already seen hints of this, as memory manufacturer TeamGroup recently mentioned Raphael-X CPUs in a news statement.
AMD has not revealed the official name of the 3D V-Cache AMD Zen 4 Ryzen 7000 processors, although it does follow the same naming scheme as the Milan-X server chips that use the same technology. It's entirely conceivable that this is a typo on TeamGroup's part, but suspicion is rampant that this is the codename for the consumer AMD Zen 4 Ryzen 3D V-Cache chips.
Although AMD has not disclosed memory frequencies, the company's test notes include a benchmark with the 16-core CPU running DDR5-6000 CL30, and the company has stated that it has already reached DDR5-6400 during validation tests. It's unclear whether those are stock or XMP/overclock values (AMD tends to use XMP profiles for its benchmarks). AMD has announced that it expects great DDR5 overclockability, making the memory controllers sound impressive from afar, and the new AMD EXPO (EXtended Profiles for Overclocking) technology appears to be a competitor to Intel's XMP branding.
Simply told, AMD will enable one-click memory overclocking by supporting pre-defined memory profiles with dialed-in memory frequencies, timings, and voltages. A recently filed patent also suggests an impending automatic RAM overclocking function that would take a more dynamic approach and exceed pre-validated EXPO profile speeds.
The AMD Zen 4 Ryzen 7000 CPUs support up to 24 PCIe 5.0 lanes directly from the socket (further details in the motherboard section). AMD is hard at work with Phison, Micron, and Crucial to enable the PCIe 5.0 SSD ecosystem. When AM5 motherboards hit the market, Crucial and Micron will have their first PCIe 5.0 SSDs on the market. Furthermore, the constellation of third-party SSDs will use Phison's E26 PCIe 5.0 SSD controllers, implying that even faster drives will be widely available soon. This will be useful for AMD Zen 4 Ryzen 7000 systems, since AMD estimates a 60% performance boost in sequential read workloads with PCIe 5.0 SSDs.
Phison supported this claim with a recent demonstration of its E26 SSD reaching read throughput speeds of up to 12 GB/s (more detailed result in that link). The sequential performance potential of PCIe 5.0 will be ideal for Microsoft's DirectStorage, which depends largely on read throughput to cut game loading times to about a second. AMD also claims that the Ryzen 7000 will offer Smart Access Storage (SAS), which appears to be a slightly revised version of DirectStorage built on the same APIs as DirectStorage.
More ded instructions for AI acceleration are available because to its support for AVX-512 instructions, which may be used for functions such as VNNI for neural networks and BFLOAT16 for inference. This weirdly puts Intel's Alder and Raptor Lake CPUs at a disadvantage because the hybrid design disables AVX-512 capabilities.
Also Read: Nvidia GeForce RTX 3070 Vs AMD Radeon RX 6800
INTEGRATED GRAPHICS IGPU AMD ZEN 4 RYZEN 7000
For the time being, all AMD Zen 4 Ryzen 7000 CPUs will support some type of graphics, so there won't be graphics-free options like Intel's F-series. The RDNA 2 engine is located on the IOD (I/O Die) and supports up to four display outputs, including DisplayPort 2 and HDMI 2.1 connections. The Ryzen 7000 processors share the same video (VCN) and display (DCN) engines as the Ryzen 6000 "Rembrandt" CPUs.
Despite the fact that all AMD Zen 4 Ryzen 7000 chips will include integrated iGPUs, the business will still release Zen 4 APUs with beefier iGPUs. The business will also introduce its Smart Shift ECO innovation to the AMD Zen 4 Ryzen 7000 desktop PC models, which allows switching graphical tasks between the iGPU and a discrete GPU to save power.
AMD has attempted to dampen expectations for the integrated graphics engine, stating that the RDNA 2 graphics are simply intended to 'light up' displays and that no serious gaming performance should be expected. AMD has stated that all SKUs will contain the same unspecified number of CUs – the IOD setup for all models will be the identical. As a result, we can safely conclude that each Ryzen 7000 chip will have 2 to 4 CUs.
If it's any consolation, the iGPU's proximity to the DDR5 controllers, which are also on the chip, should give plenty of bandwidth from main memory. We'll have to wait to find out how many cores the graphics engine has, although a recent benchmark submission showed this iGPU running between 1,000 and 2,000 MHz. Despite its modest performance, the integrated RDNA 2 engine will help AMD overcome one of its fundamental vulnerabilities in the OEM business, where discrete GPUs are uncommon in most devices. If you require a basic display out, it will also be useful for debugging.
BENCHMARKS FOR AMD ZEN 4 RYZEN 7000 AND ZEN 4 IPC
As processors enter the market, benchmark results are typically released to third-party benchmark databases. Nonetheless, we've only observed one instance of a non-AMD Zen 4 Ryzen 7000 CPU listing — two Ryzen 7000 submissions to the MilkyWay@Home project on the BOINC platform.
The submission does not provide much about performance, but it does reveal the codename 100-000000666-21 N, which most likely indicates the AMD Zen 4 Ryzen 7 7800X, which will replace the Ryzen 7 5800X. The other codename, 100-000000665-21 N, corresponds to a 16-core model that will most likely replace the Ryzen 9 5950X.
For the time being, the majority of the AMD Zen 4 Ryzen 7000 benchmarks come from AMD, and as with all vendor-provided benchmarks, you should proceed with caution. Because they are pre-production versions, performance is susceptible to vary, and the test conditions may favour AMD's CPUs.
AMD CEO Lisa Su demonstrated a 16-core pre-production AMD Zen 4 Ryzen 7000 CPU running the Ghostwire: Tokyo game at the company's Computex 2022 keynote. The chip topped out at an astonishing 5.52 GHz, as seen in the third image, and AMD has since explained that this bump occurred on many cores throughout the test. The highest frequency of 5.5 GHz equals the current desktop PC frequency leader, the 5.5 GHz Intel Core i9-12900KS. Naturally, there are limitations: AMD only promises that its chips will hit the maximum frequency on a single core. However, this is a huge improvement over the current Ryzen series.
In a Blender render, AMD pitted its 16-core 32-thread AMD Zen 4 Ryzen 7000 CPU against the 16-core 24-thread Core i9-12900K. (we included the test notes in the above album). The Ryzen 7000 CPU finished the render of a AMD Zen 4 Ryzen 7000 chip in 204 seconds, which is 31% faster than the duration of 297 seconds for the 12900K. The AMD Zen 4 Ryzen 7000 CPU has 33% more threads than the 12900K, while Intel's Raptor Lake is likely to feature 32 threads, making this a close race.
Blender supports AVX-512, which could contribute to AMD's advantage over Intel in this benchmark. Because of the challenges of routing work to the correct cores in the x86 hybrid architecture, Intel disabled the AVX-512 instructions with the Alder Lake CPUs. It is now in AMD's arsenal.
Furthermore, while we know that the 5nm process should be more power-efficient than the 7nm process, the greater 230W given by the AM5 socket may aid boost all-core performance, particularly during an AVX-powered application. (During all-core workloads, the 142W PPT limit impacted performance with the 12- and 16-core Ryzen 9 5900X and 5950X.) Comparisons of multi-threaded performance in a broader set of benchmarks will be fascinating. Furthermore, the effect of higher multi-core boosts on gaming should not be underestimated – even lightly-threaded games are vulnerable to multi-core frequencies due to the operating system and other background duties, and game engines are becoming more multi-threaded with time.
Indeed, we witnessed significant gains in gaming performance when switching from Zen 2 to Zen 3, thanks in part to multi-core boost clocks, so any improvement here benefits all boats, including gaming. We should keep in mind that Raptor Lake will have four more e-cores and higher clock rates than the 12900K, so we should expect tight competition in heavily-threaded applications.
AMD also assessed AMD Zen 4 Ryzen 7000's +15 percent single-threaded performance advantage in a Cinebench R23 single-threaded test by pitting an undisclosed pre-production 16-core AMD Zen 4 Ryzen 7000 CPU with DDR5-6000 memory against the 16-core Ryzen 9 5950X with DDR4-3600. Unfortunately, AMD did not disclose any precise benchmark scores, but this does give us a general notion of how the chips would perform in this specific benchmark against Intel's Alder Lake.
According to our tests, Intel's Alder Lake processors presently win the Cinebench R23 single-threaded benchmark. In addition, they outperform AMD's Ryzen 5000 CPUs in single-threaded performance. We've pitted the flagship Alder Lake Core i9-12900K versus the Ryzen 9 5950X in the table below.
Single-Thread Performance of AMD Zen 4 Ryzen 5000 versus Alder Lake – Percentage against 12900K
| | | |
| --- | --- | --- |
| CPUBuilders | Cinebench R23 Single-Thread (% – CB Marks) | Overall Single-Thread Geomean |
| Core i9-12900K DDR5 — 5.2 GHz | 100% (1,968) | 100% |
| Ryzen 9 5950X DDR4 — 4.9 GHz | 83.9% (1,652) | 84.9% |
The Core i9-12900K is around 16% quicker than the AMD Zen 4 Ryzen 9 5950X in the Cinbench R23 benchmark, according to our tests, and AMD claims its 16-core AMD Zen 4 Ryzen 7000 variant is 15% faster than the 5950X. That means the Zen 4 chips will most likely match Intel's Alder Lake in this benchmark.
Furthermore, the Cinebench R23 score correlates well with our more comprehensive overall test of single-threaded performance, which we use to rank CPU Benchmarks in our hierarchy. This metric takes into account performance in three single-threaded tests, and its resemblance to Cenbench results suggests that Zen 4 may be able to match Alder Lake in overall single-threaded performance.
Raptor Lake will use the same Golden Cove design for its performance cores (P-cores) as Alder Lake, but we expect Intel will increase the clock speeds to improve performance. As a result, we may anticipate a fierce competition for single-threaded supremacy between Ryzen 7000 and Raptor Lake.
2017: Zen 1 — 14nm — +52% IPC
2019: Zen 2 — 7nm — +16% IPC
2020: Zen 3 — 7nm — +19% IPC
2022: Zen 4 — 5nm — +8 to 10% IPC
The TSMC 5nm process hit 5.52 GHz during AMD's gaming demo, which was extremely impressive, but AMD has clarified that the IPC improvement over Zen 3 will only be 8 to 10%. This is less than we've seen with new AMD architectures in the past, but improved power delivery can help deliver much larger gains in threaded workloads. It's also not uncommon for AMD to tout higher performance numbers as final silicon approaches (as with Zen 1's IPC measurements).
Notably, AMD says the demo processor was "a 16-core pre-production sample not yet fused to specific power values, but was operating below our final 170W TDP spec." Naturally, that doesn't tell us if the demo processor consumed 50W below the 170W spec, or just one single watt below the spec.
AMD is anxious to highlight that those rather moderate IPC increases aren't all AMD Zen 4 Ryzen 7000 delivers to the table. AMD also shared a slide at its Financial Analyst Day that showed a greater than 25% increase in performance-per-watt and a greater than 35% increase in overall performance in a multi-threaded Cinebench benchmark.
In this test, a 16-core 32-thread AMD Zen 4 Ryzen 7000 desktop PC processor was pitted against a 16-core Zen 3 Ryzen 9 5950X. Keep in mind that the slide is a little deceiving because it employs a non-zero axis that visually magnifies the gain. However, these are impressive generational performance gains — regardless of whether they originate from IPC, frequency, or improved power delivery and multi-core boosts.
The Zen 4 processors will also enable up to 25 percent greater memory bandwidth per core, a substantial boost that comes from both the step up to DDR5 and likely from expanded pathways in the silicon to supply additional capacity to the cores. That will give quite the boost for the bandwidth-hungry AVX-512 enhancements that AMD added for AMD Zen 4 Ryzen.
We'll have to wait a little longer for a more accurate picture of performance based on third-party benchmarking. As course, we won't know what you'll see in real life until we snap the chips into the socket on our testbed.
POWER CONSUMPTION OF THE AMD ZEN 4 RYZEN 7000
AMD originally stated that Socket AM5 would have a 170W Package Power Tracking (PPT) limit, meaning that would be the peak amount of power the socket could provide to any given processor. AMD later clarified that the original number it shared was incorrect. Instead, we'll see a 170W TDP for some processors developed for the AM5 socket, such AMD Zen 4 Ryzen 7000, which is a big boost above the existing 105W TDP limit with the Ryzen 5000 processors.
Furthermore, the peak power consumption (PPT) for the AM5 socket is 230W. This is a big boost above the 142W limit of the previous-generation Ryzen 5000.
Over AMD's existing flagships, the increase represents a 65W TDP and an 88W PPT increase.
| | | | |
| --- | --- | --- | --- |
| CPUBuilders | AM4 – Zen 1, 2, 3 | AM5 – Zen 4, Future | +/- % |
| TDP – Thermal Design Power | 105W | 170W | +61% | +65W |
| PPT – Package Power Tracking (Peak) | 142W | 230W | +62% | +88W |
TDP and PPT of the top Zen 4 Ryzen 7000
This higher power delivery will benefit Ryzen CPUs in heavily-threaded tasks, such as the Blender benchmark, which showed AMD Zen 4 Ryzen 7000 destroying Intel's Alder Lake Core i9-12900K during Computex. The higher 170W TDP also implies that we could see beefed-up 12- and 16-core AMD Zen 4 Ryzen 7000 chips with a 170W TDP for hardcore users, while 105W 12- and 16-core variants are reserved for more mainstream applications.
Increasing the TDP and PPT will help AMD deliver additional performance during intensive multi-threaded workloads, especially for its higher core-count models. AMD's prior limit of 142W with the previous-gen AM4 socket limited performance in many circumstances, so the additional 88W of power will be especially useful with the newer 12- and 16-core CPUs.
This might help counteract AMD's consumer-oriented Threadripper HEDT platforms' doom – the company recently stated that it was retiring all non-Pro Threadripper chips, putting the remaining variants' pricing out of reach for enthusiasts. Higher-end high-core-count Ryzen 7000 CPUs paired with high-end X670E motherboards with PCIe 5.0 capability (more on that later) will probably cover that gap.
Furthermore, AMD has stated that it will use standard TDP and PPT calculations for chips that drop into the AM5 socket – simply multiply the TDP by 1.35 to obtain the chip's maximum power consumption (PPT).
ARCHITECTURE OF THE AMD ZEN 4 RYZEN 7000
AMD has released little specifics about the AMD Zen 4 Ryzen microarchitecture, but we do know that AMD has increased the L2 cache per core to 1MB for Zen 4, providing the CPU cores with a larger slab of near memory for workloads. According to AMD, the architecture has to be balanced in order to find the optimum amount of L2 cache, as utilising too much increases latency and chews into the die area.
Larger L2 caches on Intel CPUs have mostly benefited data centre applications. Larger L2 caches often lower L3 cache accesses (theoretically by 40% in this example), reducing congestion on the fabric and providing improved scalability and performance in all-core workloads – as opposed to permitting significant increases in single-threaded work. That means Zen 4's additional L2 capacity may pay off more handsomely for EPYC Genoa server CPUs than for most desktop PC workloads. But that doesn't mean AMD won't reap benefits from other forms of work, such as gaming and desktop PC programmes – any rise in hit rates improves IPC.
Extending the preceding tweet shows some of chip detective @Locuzapredictions 's for the new 6nm I/O die (IOD), anticipated at 125.66mm2, or nearly the same size as the 124.94mm2 12nm IOD seen on Ryzen 5000 CPUs.
Furthermore, the compute die (CCD) on the AMD Zen 4 Ryzen looks to be 72.23mm2, which is slightly smaller than the 83.74mm2 die on the Ryzen 5000 CPU. Given that the N5 technology for Ryzen 7000 is more denser than the 7nm process for Ryzen 5000, the smaller die will nevertheless have more transistors. This is estimated to be 5.57 billion transistors for the Zen 4 CCD, compared to 4.15 billion transistors for Zen 3 CCDs (a 34 percent increase for Zen 4).
| | | |
| --- | --- | --- |
| AMD Codenames (all not confirmed) | Core | CCD (Core Compute Die) |
| Zen 2 | Valhalla | Aspen Highlands |
| Zen 3 | Cerebrus | Breckenridge |
| Zen 4 | Persephone | Durango |
| Zen 5 | Nirvana | Eldora |
Codenames for AMD Zen Core and CCD
PROCESSORS AMD ZEN 4 RYZEN 7000 AND AM5 SOCKET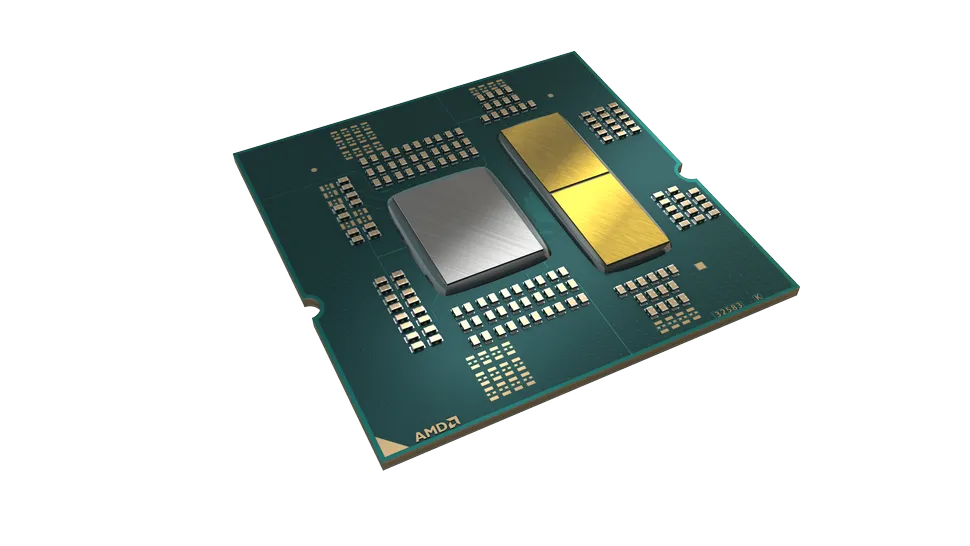 The top of the AMD Zen 4 Ryzen 7000 packaging is cluttered, with a slew of capacitors strewn across the PCB. This reduces the requirement for capacitors that face into the socket, such as the enormous arrays of capacitors found on Intel's processors' LGA pads. As a result, the bottom of the chip is left empty to contain only the LGA pad array. (AMD Zen 4 Ryzen 7000 pad image courtesy of @ExecuFix; not affiliated with AMD.)
The capacitor arrangement on Ryzen necessitated the attractive heatspreader — the firm couldn't put the capacitors under the IHS owing to heat difficulties — but it also likely excludes the possibility of AMD adding a third die to the processor. AMD has stated that Zen 4 chips will have a maximum of 16 cores and 32 threads at launch, similar to the previous-generation Ryzen 5000 series. AMD has stated that AM5 would be a similarly long-lasting socket as AM4, therefore we may see higher core counts in this socket in the future with further versions of Ryzen.
A motherboard vendor uploaded a video of a AMD Zen 4 Ryzen 7000 processor being installed in the new AM5 socket before removing it. Fortunately, we were able to take some screenshots before they removed the video. AMD is transitioning from its long-lived Pin Grid Array (PGA) AM4 sockets to a Land Grid Array (LGA) AM5 layout with this new socket.
Despite the fact that the LGA1718 socket interface (1718 pins) is completely different, the AM5 socket will still support AM4 coolers. The AM5 socket is 40x40mm in size, and the AMD Zen 4 Ryzen 7000 processors have the same length, width, Z-height, package size, and socket keep-out pattern as previous-generation models, allowing backward compatibility with AM4 coolers. As an aside, the LGA 1700 socket from Intel has a higher pin density than the AM5 socket. This is due in part to Intel's usage of a big empty keep-out space in the centre of its sockets to accommodate the capacitors on the chip's bottom. In contrast, AMD has positioned all capacitors on top of the PCB, maximising socket area.
Interestingly, the AMD Zen 4 Ryzen 7000 IHS claims that the chips were built and distributed in Taiwan, whereas the Ryzen 5000 chips were distributed in Taiwan but manufactured in the United States.
An photograph of the backside of the Ryzen 7000's integrated heat spreader (IHS) was also provided to a Facebook group by an unknown poster. The image reveals a lot about the chip, such as the fact that AMD will continue to employ solder thermal interface material (TIM) with its Zen 4 Ryzen 7000 CPUs. The IHS appears to be rather thick, which aids thermal dissipation and hence reduces cooling requirements.
The adhesive can also be seen at each of the eight 'arms,' which is a break from AMD's seal-all-around method with the Ryzen 5000 processors. The two compute dies are supported by one edge of the heat spreader. As you can see, there isn't enough room within the package for a third die unless AMD changes the die locations dramatically.
Finally, we can clearly see the cutouts on the top of the PCB that allow for surface mount devices (SMDs) (these are mostly capacitors). These top-facing SMDs will undoubtedly increase the danger of delidding, but considering AMD's usage of solder TIM, this would be of limited interest anyway. Excess thermal paste may squeeze out onto the capacitors due to the design, however this will not be an issue with non-conductive thermal pastes. If you use conductive paste, it may be best to apply a sealer, such as clear fingernail polish, to the exposed capacitors closest to the heatspreader.
Above, an MSI live broadcast shows the AM5 socket compared to Intel's socket LGA 1700, as well as the AM5 backplate and the open socket. AM5 will use mounting gear from both Lotes and Foxconn. The above album also includes comprehensive AM5 diagrams courtesy of Igor's Lab.
Also Read: Best Gaming Monitors
AMD Zen 4 Ryzen 7000 600-Series Motherboards with AM5 Socket: X670E Extreme, X670, and B650
AMD's socket AM4 has been in service for five years, spanning five CPU generations, four architectures, four process nodes, 125+ CPUs, and 500+ motherboard designs, therefore it's time for a new socket, AM5, and a revamped line of motherboards.
Raphael chips will be installed on a new AM5 socket that supports PCIe 5.0 and DDR5 interfaces, complementing Alder Lake in this regard. Socket AM5 motherboards will expose up to 24 PCIe 5.0 lanes to the customer, the most PCIe 5.0 lanes direct from the socket in the industry, and will utilise an additional four PCIe 5.0 lanes to connect to the chipset (less expensive motherboards can use a PCIe 4.0 connection to the chipset, AMD recently qualified the interface for Ryzen 7000). The new 600-series chipsets are all fanless.
The processor also supports up to 14 SuperSpeed USB 2.0 ports, including Type-C, as well as Wi-Fi 6E with DBS and Bluetooth LE 5.2. AMD recently added USB 4 connectivity to its Ryzen platform, so that will be supported as well. AMD has not indicated, but Wi-Fi 6E capability will be provided as a separate chip from the company's collaboration with MediaTek (some MSI boards, for instance, use the RZ616). The AMD Zen 4 Ryzen 7000 processors also include the SVI3 power architecture, which allows for additional power phases from the motherboard and faster voltage response.
The X670E 'Extreme' chipset will have two PCIe 5.0 graphics slots and one M.2 NVMe SSD port. This chipset is intended for motherboards that require high overclocking and connectivity, establishing a new tier above AMD's normal lineup. This platform, when combined with the higher 170W TDPs offered by some AMD Zen 4 Ryzen 7000 CPUs, will most likely function as a quasi-Threadripper substitute for enthusiast-class rigs.
The X670 chipset will power'standard' high-end motherboards and will be available in a variety of versions with varied PCIe capabilities. The PCIe 5.0 interface will be supported by the M.2 port, although the first graphics slot can support either PCIe 4.0 or PCIe 5.0, depending on the motherboard. This provides a more affordable sub-tier of PCIe 4.0 X670 motherboards, allowing enthusiasts to avoid the additional costs associated with PCIe 5.0.
For a single NVMe port, the B650 chipset will enable PCIe 5.0, but only PCIe 4.0 for the graphics slot. This chipset also enables overclocking, although you won't find as many power options as you would with more expensive boards. (For more information on overclocking, see our How to Overclock a CPU tutorial.)
Socket AM5 motherboards enable up to four display outputs through HDMI 2.1 Fixed Rate Link (FRL) and Displayport 1.4 High Bit Rate 3 (HBR3) outputs, which are powered by the RDNA 2 graphics engine aboard the AMD Zen 4 Ryzen 7000 processors' 6nm I/O chip.
Five of the next flagship X670E motherboards have now been revealed, including choices from MSI, ASRock, ASUS, Gigabyte, and Biostar.
AMD has yet to clarify its dual-chipset orientation, but leaked images of the MSI X670E and ASUS Prime X670-P Wi-Fi motherboards have corroborated many of the specifications we previously discovered. AMD's standard B650 platform, according to our sources, will include a single chipset chip that links to the Ryzen 7000 CPU through a PCIe 4.0 x4 connection. However, materials we've seen indicate that some AM5 processors support a PCIe 5.0 connection.
Meanwhile, the enthusiast X670 platform uses two of these ASMedia chips (our sources claim the chips are identical, not arranged in a north/southbridge fashion), thereby tripling these connectivity options. These chipsets are also daisy-chained together. This is in contrast to AMD's existing 500-series motherboard architecture, which uses distinct CPUs for the X- and B-series motherboards. The new technique will undoubtedly give economic and design flexibility benefits.
Another research on the 600-series chipset (codenamed Promontory 21 – PROM21) has backed up our results and provided more insight into the 600-series chipset design's power- and cost-saving capabilities. The chipset is anticipated to be 40mm2 in size (19x19mm). When you expand the tweet above, you'll notice another interesting limitation of AMD's new chiplet-based chipset approach: motherboard suppliers can position the chipsets in different orientations. We've also seen another implementation with what appears to be a PCIe switch placed between two chipsets, presumably for fanout connections, so we could see a variety of ways.
Finally, AMD has verified that only DDR5 memory will be supported by the AM5 socket. The company claims that DDR5 gives enough performance to warrant the expense, but we'll have to keep an eye on price. As previously stated, DDR5 remains more expensive than DDR4, owing to the fact that DDR5 is the first generation of standard memory to include onboard power management ICs (PMICs) and VRMs. Unfortunately, due to the pandemic, these have been in continual supply, but DDR5 pricing has reduced as PMIC and VRM supply recovers. Unfortunately, DDR5 still costs more than equivalent DDR4 kits.
However, due to DDR5's more complicated power circuits and design, these modules will continue to command a higher price than DDR4. DDR5 also has built-in ECC techniques for data at rest, which necessitates the use of extra dies to give the same memory capacity as DDR4. This means that DDR5 will always be more expensive than DDR4.
PRICING FOR AMD ZEN 4 RYZEN 7000
AMD hasn't released any specifications for the Ryzen 7000 product stack, so we don't know how much it will cost. It is worth noting, however, that TSMC's 5nm process is expected to be far more expensive than the 7nm technology was at this point of production. The 6nm I/O die is also predicted to cost more than the 12nm I/O die utilised by AMD in the Ryzen 5000 series.
However, the cost of the chip isn't always the most important consideration: The X670 and B650 AM5 platforms only support DDR5, which has consequences for platforms based on AMD's future Zen 4 processors. Despite shrinking price discrepancies over time, DDR5 will remain more expensive than DDR4, independent of supply.
As a result, Intel's Raptor Lake will most likely have a platform pricing advantage over easily accessible DDR4 platforms, which could pay out at the mid-range and low end of the product stack. AMD has a counter with less costly PCIe 4.0-only X670 motherboards, but we'll have to wait and see how those boards perform when they hit the market.
All of these criteria suggest that you may have to pay a premium over comparable Intel Raptor Lake platforms, at least with the initial Zen 4 'Raphael' Ryzen 7000 CPUs for Socket AM5. As a result, much to AMD's high-priced Ryzen 5000 processor debut (AMD only delivered lower-cost Zen 3 chips a year and a half later), expect to pay a premium for AMD's initial Ryzen 7000 platforms when they launch later this year.
However, there remains one unanswered question: Will AMD introduce Zen 4 designs to older AM4 motherboards? We've seen no clear evidence that this would happen in the near future, and it certainly wouldn't make sense until the complete range of AM5 Ryzen 7000 processors is out – as a business, undercutting your premium products before they're even introduced would be a bad idea. Will AM4 Zen 4 Ryzen 7000 versions be available later? Only time will tell.
The 5nm Zen 4 Raphael Ryzen 7000 CPUs and accompanying 600-series chipsets are set to hit the market in Fall 2022, so we won't have to wait long to see how the pricing stacks up. We're sure to learn a lot more as the launch date approaches, so keep checking back for updates, which we'll add to this blog on a regular basis.